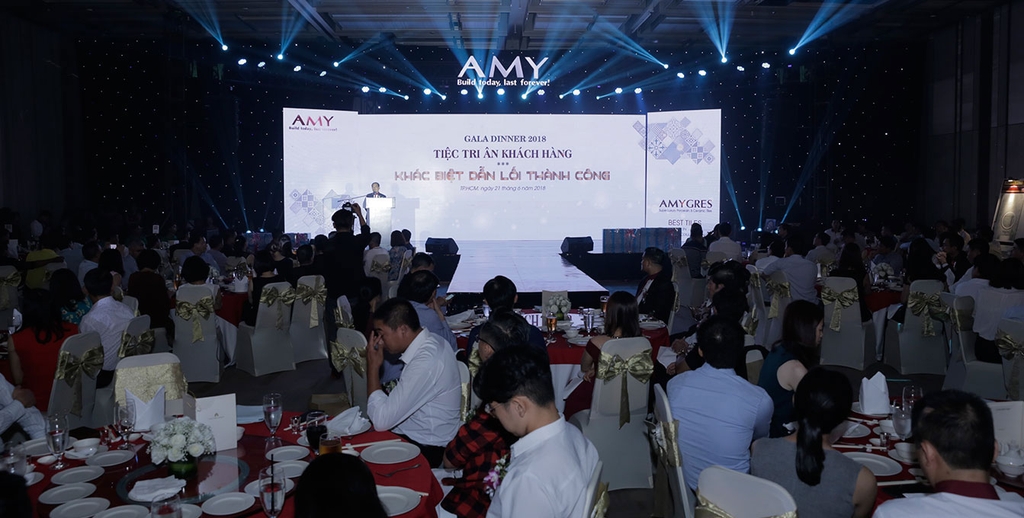 21th June 2018 at Nikko Hotel – Ho Chi Minh city, AMY Grupo respectfully organized a gratitude party customers to partners and the entire distributor network.
More than 200 reprensentatives from distributors in provinces attended to the party and review the perfect journey during the past time.
Being borned with the mission is ensuring the satisfaction, constant belief of customers, suppliers, employees, distributors and community. AMY continously effort to provide
preeminent products, create nice spaces and lasting value for each customer.
In the luxurious and warm space of the party night, the Board of Directors expressed their deep thanks to the partners, customers for their interest, trust, support and positive
cooperation to contribute into the success of AMY in the past years.
Amy have been making the impression as loved branch in dosmetic and international market. To accomplish this mission, a team of Amy practices determinatively visionary
strategies, passionate, taking the speed to replace the scale, taking the creation to replace the experience, making sacrifice and dedication for customer, accompanying with
distributors to witness and experience throughout the time. We consider that building trust and customer's satisfaction and long - term attachment as the development goal.
With the relentless efforts and the trust of our customers, Amy has built a system of sales channels through 48 distributors spread over and across provinces on the country.
Customer Gratitude Program 2018 is a chance to honor excellent distributors, who have always been attached to Amy from difficult times until success is achieved.
Amy always efforts relentlessly to research and develope some products, models and new design, enclose long – lasting and valuable cooperating relationship between Amy
and distributors that create new outbreaking as the motto of program: " The difference leads to success".
Let's watch the images in Gala dinner party night held by Amy as follow: