In South Asia, there is a strangely peaceful Sri Lanka. The gentle and harmonious heavenly, to the river, the grass or the rocky mountains are also beautiful. This beauty has become the creative material for the Colombo Stone Collection of Amy.

Sri Lanka called as the land of smile, because when you come here, you can easily see the bright, sincere smile of the native people. Unlike industrial smiles in today's fast-paced life, there is more affection and warmth than anywhere else.

Sri Lankans are very kind and like to help the others. They are so enthusiatic that sometimes, it makes people wonder why they can help without responsing to anything
Sri Lankans live peacefully and in harmony with nature. It is a respectful behavour with the natural world that has kept a endless treasure for this place, made a good impression for visitors when passing through. The heaven, the grass, mountain
and river are all very sparkly beautiful that make people cannot leave the steps.
The favor nature specially give Sri Lanka a great beauty.
The Lion stone mountain – A famous place in Sri Lanka
Anyone can be passionate with enchanting beauty of nature in blob – shape insland . It is also the irresistible beauty that becomes creative materials in Colombo Stone collection of Amy
The appeal in the design of true reflection of what belongs to the nature, sophisticated to every details. Comlombo stone has sketched hidden stories in
he Colombo Stone has sketched stories hidden in the Sri Lankan rocks known as the jewel of the Indian Ocean.
The Diamond rustic modern enamel coating technology has been used diamond rustic enamel with the light particles melting on the tile surface, creating a sprakle effect when light is reflected on. From there, making a deep impression, stimulating the emotions of people who look, keep the floor and walls always look new. At the same time, the rustic surface helps prevent fouling, anti-slip effectively
Overall design has a simple and rustic style, combined with elegant and natural transition among veins on 6 surfaces that creating the works can conquer even the most fastidious customers. Creamy tone, light yellow and grey have been used as the main tones bringing peacful and comfortable feeling, while expressing homeowners's modernly aesthetic gout , not only expanding the space but also bringing a clean and airy feeling to your home.
Not only the completely pure material, but aslo Colombo Stone is a painting that deepens the breath of nature. Colombo Stone has made endless inspiration for architects whp always ambitiously find breaking solutions and meet modern spaces. The products can be easily used at projects such as: restaurants=, hotel, resort, villa, apartment,…
Please refer some of Colombo stone collection application ideas as bellow: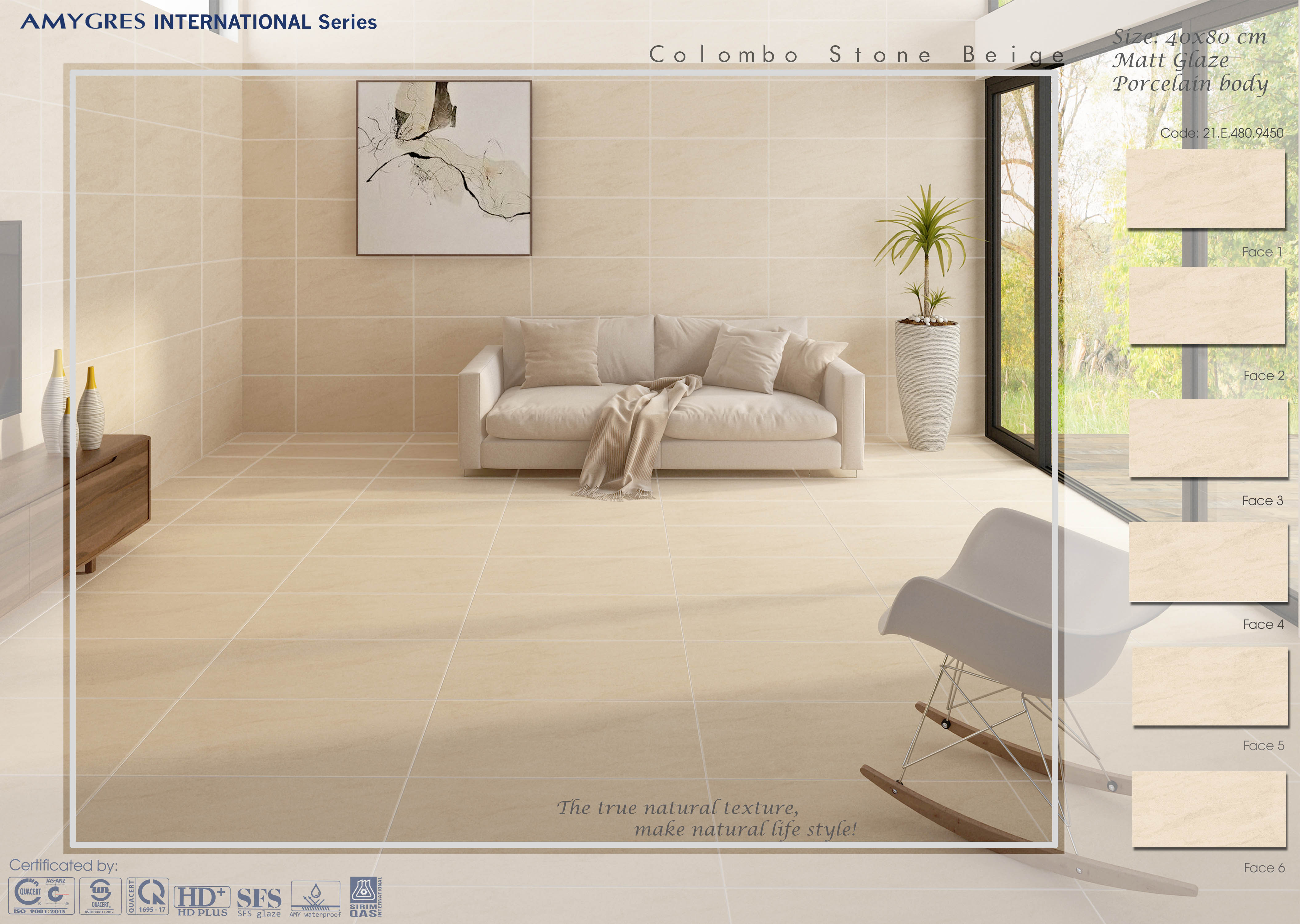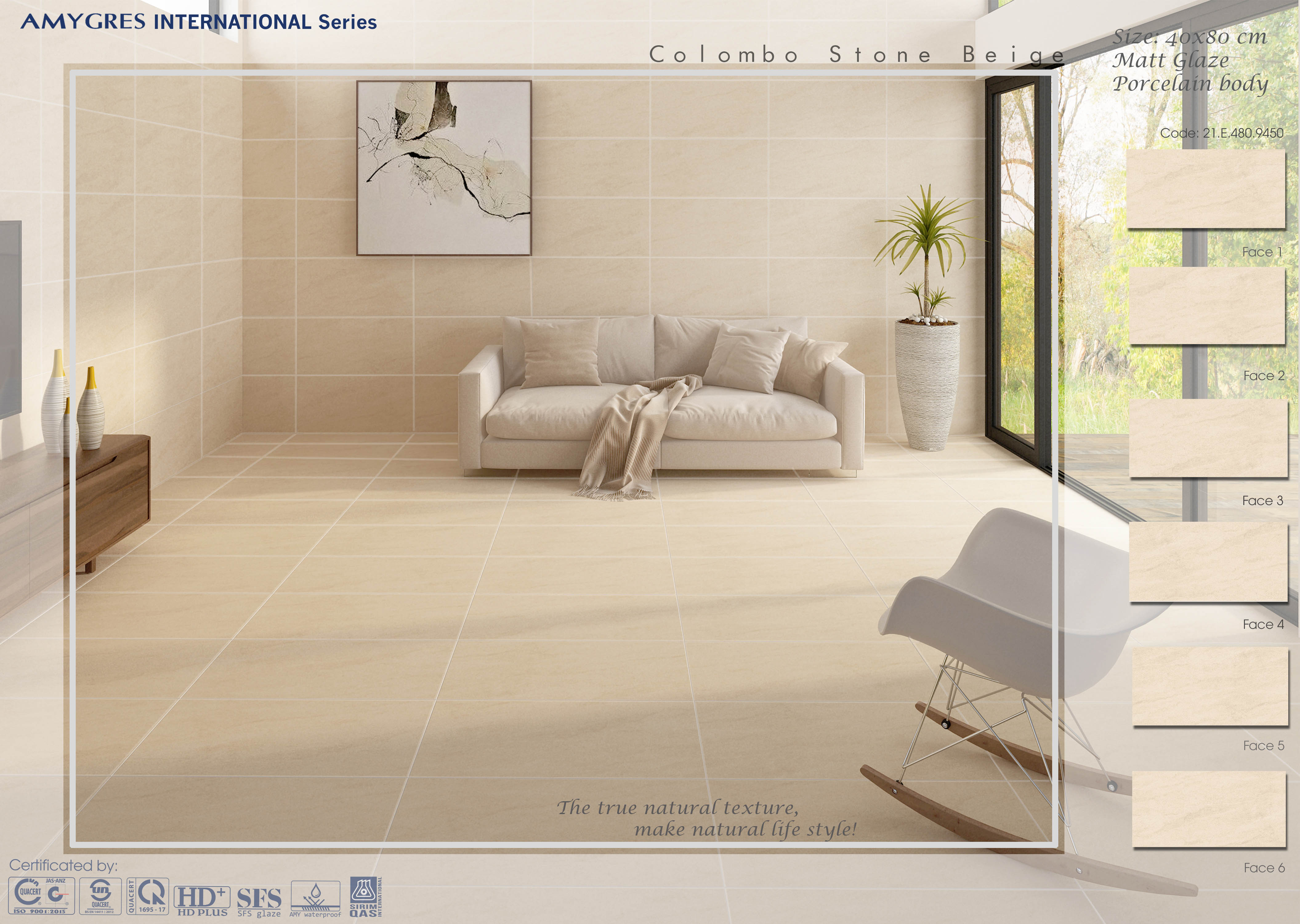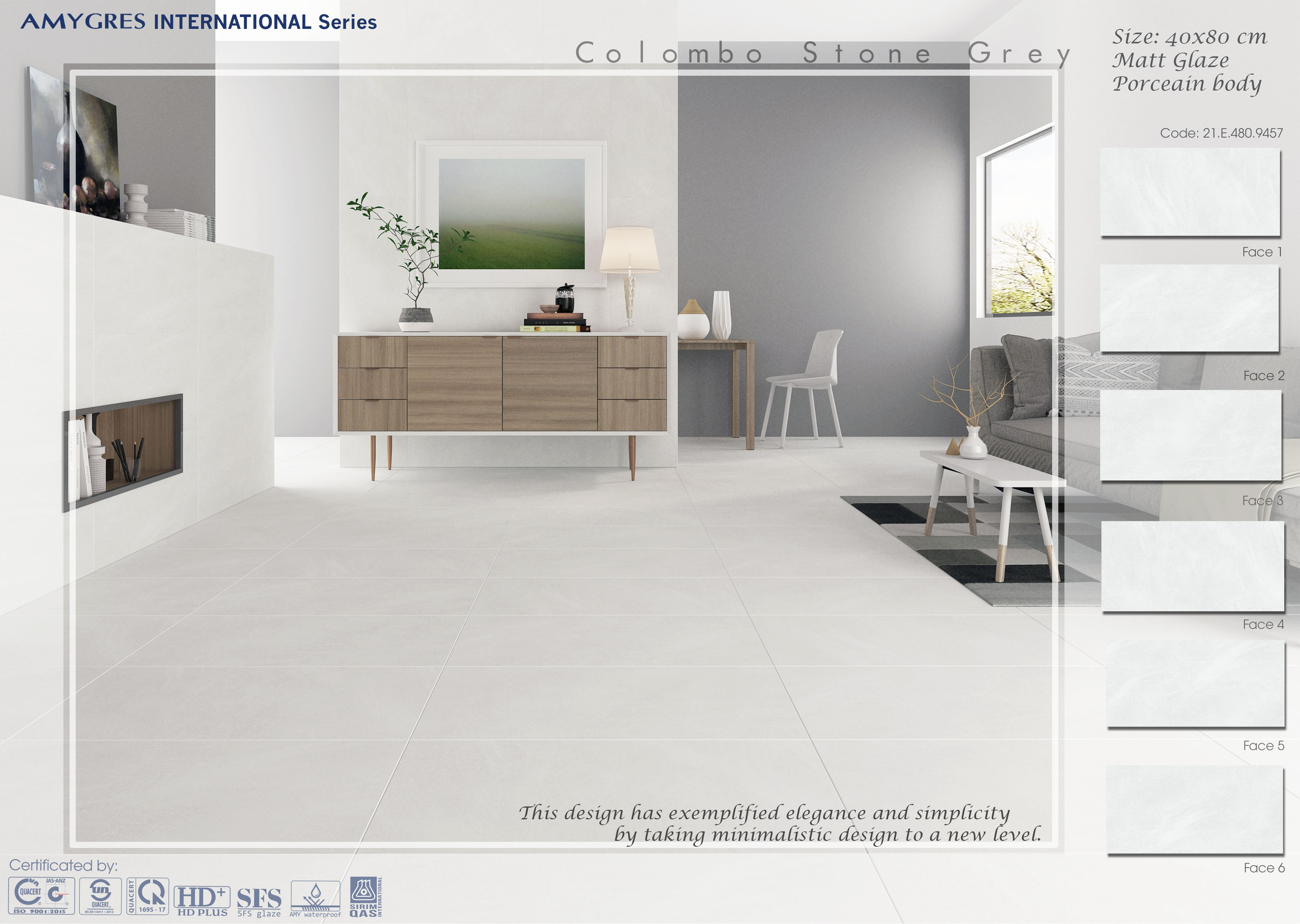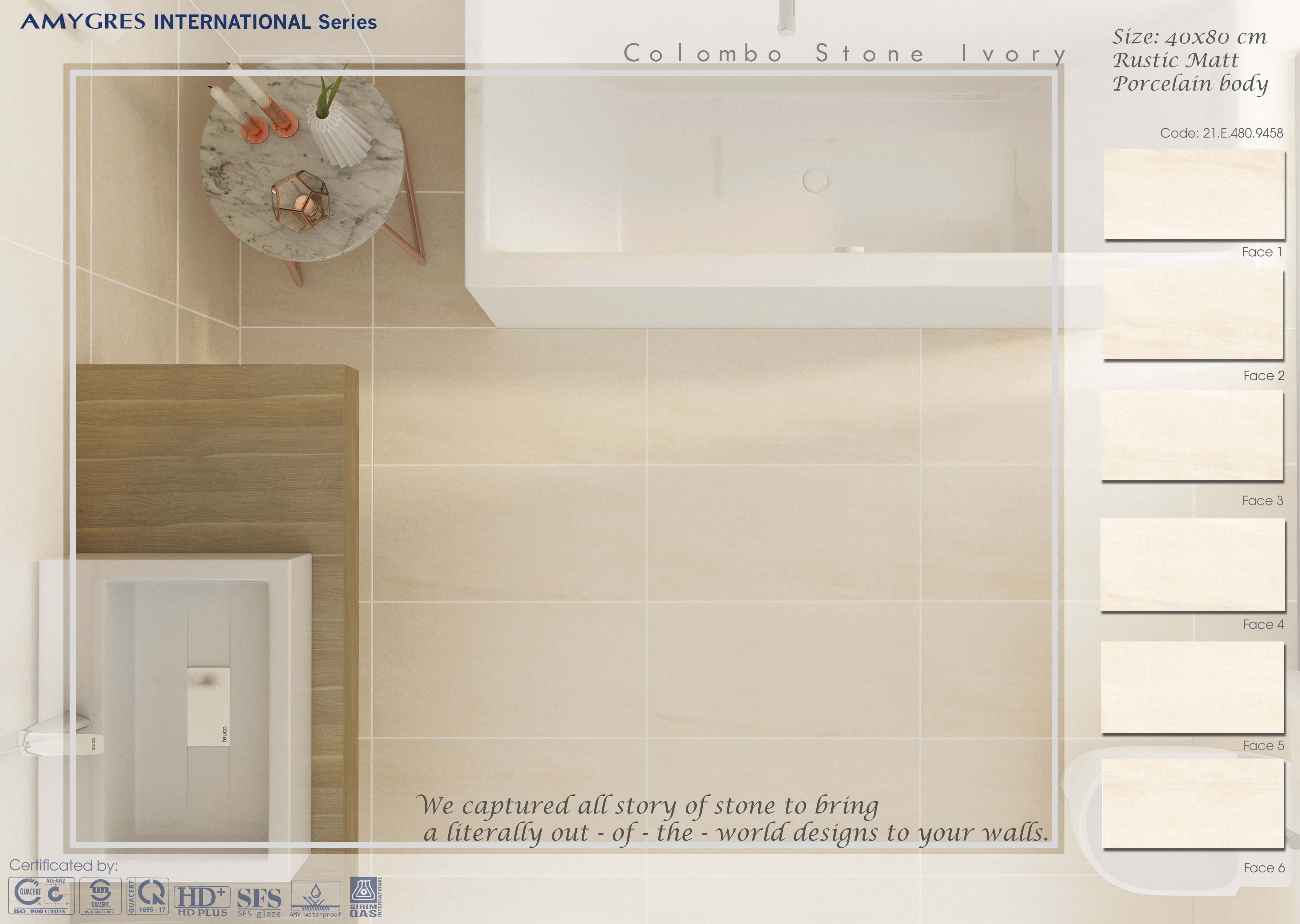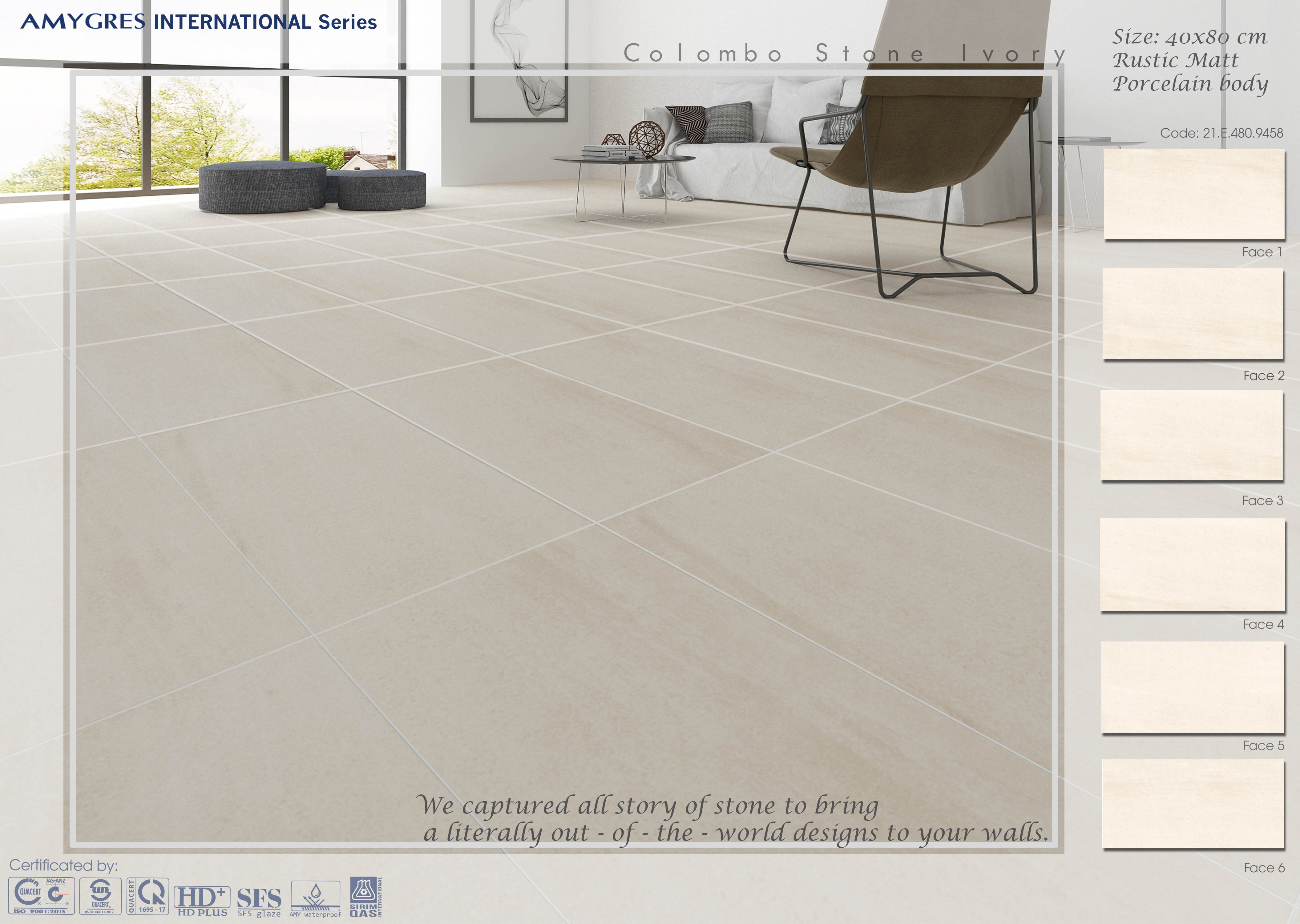 Amy's Colombo Stone collection will surely satisfy customers. For more information about our products, please contact at hot line 19009212 for the fastest purchase support!